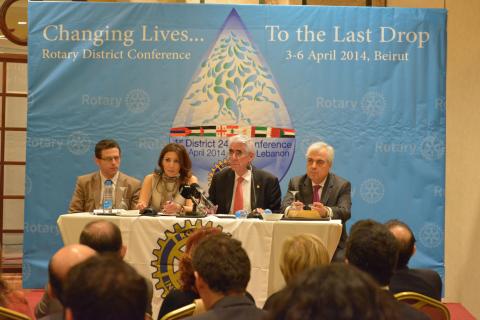 Beirut, 26 March 2014: The Rotary Clubs of District 2452 held a press conference on Wednesday 26th of March to announce the program of its Annual Conference, which will be held between the 3rd and 6th of April 2014 at Phoenicia Hotel in Beirut under the title "Changing Lives to the Last Drop". The Rotary District 2452 is comprised of 9 countries: Lebanon, Jordan, Cyprus, UAE, Armenia, Georgia and Sudan and is led by the Lebanese Governor Jameel Mouawad.
The press conference started with a presentation of Bana Kobrosly, PR Committee Chair of Rotary District 2452 Conference about the Rotary, stating: "The Rotary is a global network gathering volunteers and is led by businesswomen and men, pioneers and leaders of communities, extending humanitarian services and encourage people to respect ethical standards, while contributing in leveraging good intentions and peace building in the world. More than 34 thousand Rotary clubs in more than 200 countries and geographical zones among those are 25 clubs in Lebanon, launch initiatives to face daily challenges like illiteracy, hunger, diseases, poverty, clean water shortage, environmental issues." Kobrosly added: "Rotary remains committed after one century to its mission in developing communities and individual relationships and establishing peace and understanding. From here stems our motto Service above Self."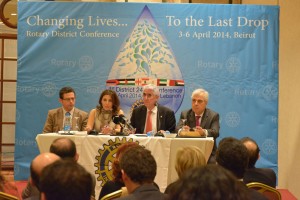 Conference Chairperson Mario Nasard, also spoke about the importance of holding this activity in Beirut despite all difficulties, to stress on the need to achieve all growth and service goals of value to the society especially in this situation.
Nasard presented the conference's program that will highlight issues which Rotary clubs are working on in Lebanon and the region , which was activated with the support of the Rotary Foundation alongside local and international bodies and institutions, including projects to secure the necessary purification systems for drinking water in public schools on all Lebanese territories, polio and vaccination campaigns that took place in Lebanon and the region, securing necessary tools to contribute to computer literacy, as well as local and regional economy and its effects. The lecturers at the conference will comprise a group of former and current Lebanese ministers and MPs, including the current minister HE Michel Pharaon, and former MP Ms. Nayla Mouawad, Ms. Randa Berri, and media figure Marcel Ghanem. The congress will honor also the Central Bank Governor Riad Salameh during the lunch session will bring together a large number of heads and directors of Lebanese banks.
The Rotary District Governor Jamil Mouawad, declared that the opening ceremony of the conference will be held under the auspices of President Michel Suleiman on Thursday, April 3, 2014 at 6 P.M. at the Phoenicia Hotel in Beirut, in presence of a large number of diplomatic, political and social figures.
Mouawad also offered a glance of the most important achievements of the Rotary Foundation in the region on several fronts: health, education, youth, and development. He stressed on the importance of the conference, he said: "The conference aims to develop future plans for the development of services extended by the Rotary to local communities and development, and especially youth groups in which lies the energy of any society. The conference will discuss over three days, the most important service projects carried out by the clubs , which targeted the underprivileged people in communities and the fight against polio and secure drinking water in all Lebanese public schools and environmental projects aimed at the development of local communities . He added: "I would like to stress on the role of a civil society, which extends an important mechanism in achieving human development in the country, and a popular tool to be reckoned with in the management of local affairs. These associations provide capabilities to disadvantaged segments of the society and contribute to education in all phases. They also highlight the abuses of human rights and assist the victims of such offenses. It is a sphere where efforts and initiatives meet, to deliver a volunteering work filling the vacuum created by negligence, and offering what benefits people and the society."
Categories