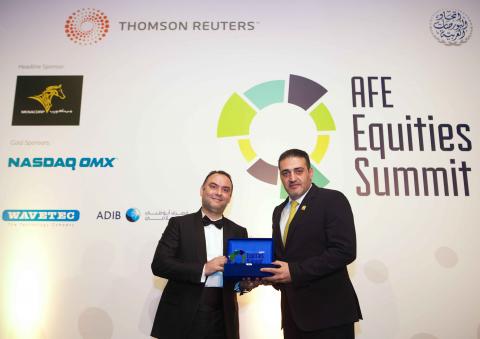 Brokerage accepts recognition, discusses market fundamentals at AFE Equities Summit 2014
June 8, 2014
Al Ramz Capital, the UAE's leading financial services firm, has received the prestigious 'Best Brokerage House - Abu Dhabi 2013' award from the Arab Federation of Exchanges (AFE) during the opening day of the 2014 AFE Equities Summit held recently in Dubai.
This year's annual AFE conference was held in partnership with multinational media and information firm Thomson Reuters. The event gathered 400 delegates from Arab exchanges and served as a platform for exchanging brokering knowledge and experience and promoting best practices in a dynamic environment.
The summit agenda included an opening-day Gala Dinner where brokerage houses that posted the highest value traded for the year 2013 were recognized for their achievements. An award for the "Best Shari'ah Complaint Brokerage House" and special Congratulatory Awards for the MSCI upgrades of the Abu Dhabi Securities Exchange (ADX), the Dubai Financial Market (DFM) and the Qatar Exchange (QE) were handed out as well.
Talal Touqan, Head of Research at Al Ramz Capital, moderated a Panel discussion titled 'The Oldest Debate: Fundamental vs. Technical analysis' on day two of the Summit.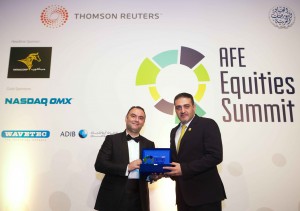 "The AFE Equities Summit is an important forum not only for exchanges but for all financial stakeholders in general. We are genuinely honored to be named as Abu Dhabi's best exchange for 2013 during this year's edition of the prestigious event. It is an even greater privilege to share our expertise on market dynamics and approaches with experts, decision-makers and practitioners from across the region and around the world," said Mr. Mohammed Mortada Al Dandashi, Managing Director, Al Ramz Capital.
Al Ramz Capital is an innovative and award-winning leader in the Arab financial services landscape with more than 16 years of extensive experience and proven excellence in the UAE financial markets. Its comprehensive skills and expertise cover Equities, Portfolio Management, Securities, Trading, Financial and Capital Markets, Asset and Risk Management, Financial Analysis, Investment Banking, Mutual Funds, Asset Allocation, and Equity Research.
Categories