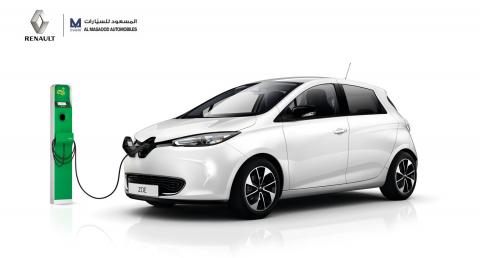 Powerful 40 battery delivers record driving range of 300 kilometers on a single charge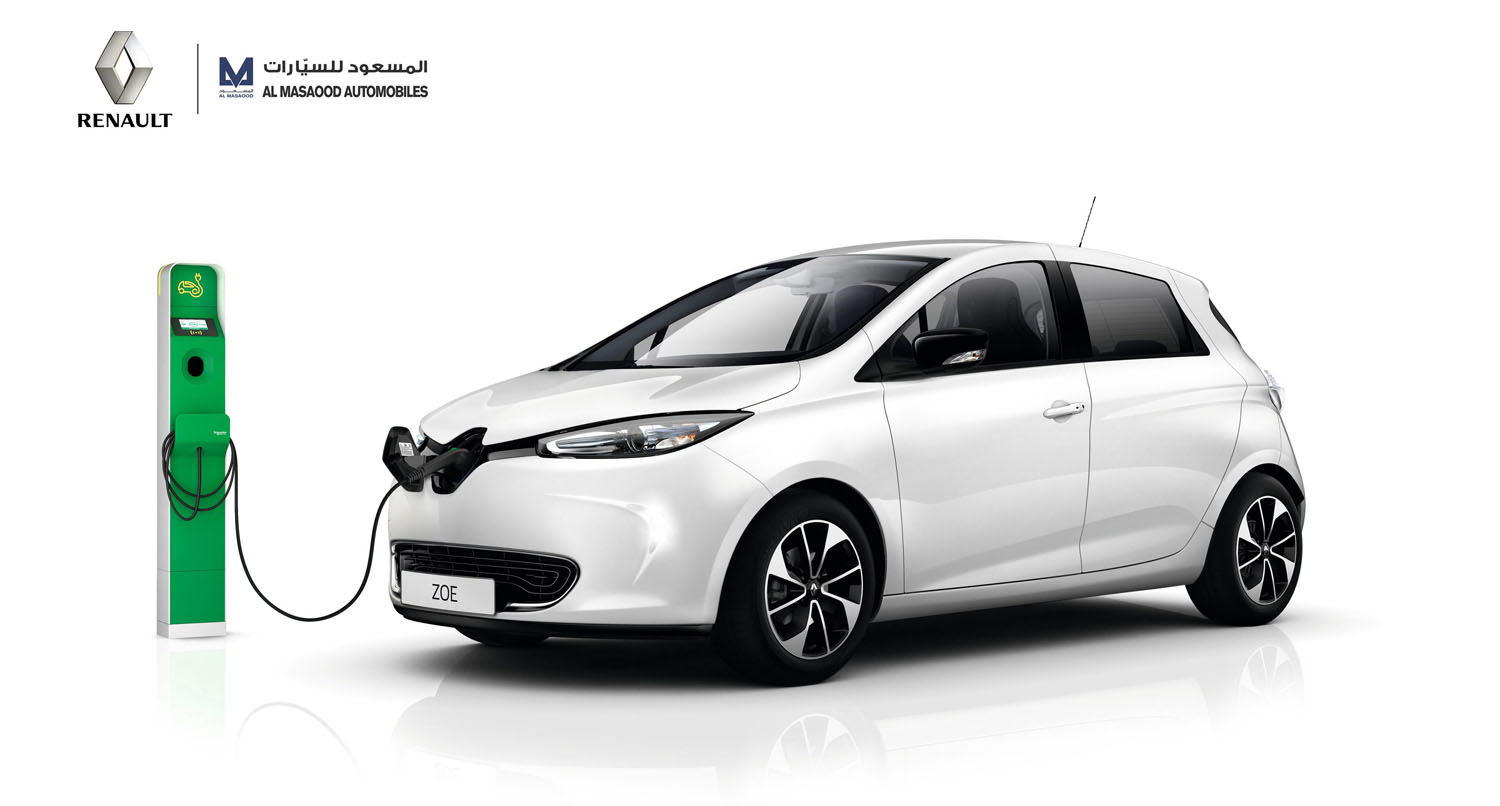 Abu Dhabi's bid to create a green metropolis and reduce carbon dioxide emissions from cars has received a new boost with Al Masaood Automobiles' launch of Renault Zoe's latest electric car model across the emirate. Renault, which was the first to introduce a full electric vehicle (EV) in the Middle East, is delivering this time the Renault Zoe long range model which boasts a 40 battery - 41kWh unit power source extending the driving range of the EV to record 300 kilometers on a single charge.
The zero emissions car's reach is double the distance range compared to the previous generation of Renault Zoe. The new battery being used in the car is made from high-energy density lithium-ion technology which has been developed in partnership with LG Chem and engineered to increase storage capacity while not compromising on weight and space. It is strategically integrated within the vehicle coupled with advanced air circulation system and electronic management that helps maintain the battery's temperature at consistent level. This feature makes the EV run economically and an ideal car for countries such as the UAE where temperature goes high during summers.
Irfan Tansel, CEO, Al Masaood Automobiles, said: "Renault Zoe long range is a compact car which is ideal for moving around within the city. Its fully electric and zero emissions features share the ideals of the emirate to build a sustainable city, in line with the Abu Dhabi Vision 2030 and the UAE's goals to reduce carbon footprint and contribute to the building of a healthy and environment-friendly society. The 5-door city car is known for its sporty and cutting-edge style and features signature headlamps that indicate its zero emissions status. With the growing interest in EVs in the UAE, Renault Zoe provides the best option for car owners seeking to drive home the message of sustainability."
While benefitting from extra capacity, Renault Zoe long range's charging time remains the same and 'topping up' the battery for just 30 minutes provides the user with an additional 80 kilometers of range. Renault continues to develop its futuristic cars under the 'Drive the Future' strategy, a six-year plan which will see the brand maintain its global leadership in electric var market. The company plans to introduce eight new 100 per cent electric vehicles and 12 new electrified models by 2022.
Since 2004, Al Masaood Automobiles has been the authorized distributor of Renault vehicles in Abu Dhabi and Al Ain, providing passenger, commercial, 4 x 4 and luxury cars catering to individual, fleet and government buyers. The company has two showrooms for Renault in Abu Dhabi and Al Ain. Because of its consistent and excellent services, the company continues to attract customers and earned its latest award from Renault for 'Best Sales Performance' among other dealers across the Middle East in 2017.
---
About Renault:
Renault has been making cars since 1898. Today it is an international multi-brand group, selling close to 3.2 million vehicles in 127 countries in 2016, with 36 manufacturing sites, 12,700 points of sales and employing more than 120,000 people. To meet the major technological challenges of the future and continue its strategy of profitable growth, the Group is harnessing its international growth and the complementary fit of its five brands, Renault, Dacia and Renault Samsung Motors, Alpine and LADA, together with electric vehicles and the unique Alliance with Nissan. With a new team in Formula 1 and a strong commitment to Formula E, Renault sees motorsport as a vector of innovation and brand awareness.
For more information about our products, services and commitment to sustainable mobility, visit www.renault-me.com.
About Al Masaood Automobiles
Al Masaood Automobiles – authorized distributor of Nissan, Infiniti and Renault in Abu Dhabi, Al Ain and the Western Region for nearly four decades, brings to its customers a complete range of the most reliable 4x4, luxury, passenger and commercial vehicles, efficiently catering to a large and diverse number of individual, fleet and government users. Al Masaood Automobiles' extensive network coverage includes 8 showrooms in Abu Dhabi, Al Ain and the western region – including the flagship showroom complex at Musaffah with dedicated new vehicle delivery center; 6 Service Centers and 7 Spare Parts outlets. Al Masaood Automobiles enhances its success through strong tie-up with leading banks, offering to its customers easy finance solutions and facilitating purchase process with insurance, finance and accessories under one roof.
For more information about our products, services and commitment to sustainable mobility, visit www.masaood.com, You can also follow us on Instagram, Twitter and LinkedIn.
Categories