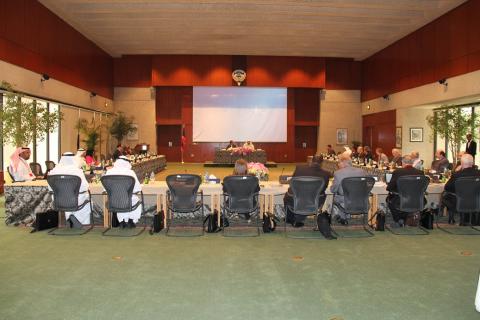 Amman, 16 June 2014 - Arab Forum for Environment and Development (AFED) announced after a meeting held in Amman by the organizing committee of its upcoming seventh annual conference, that the conference will be held on 26-27 November 2014 at the Royal Convention Centre at Le Merdien in Amman. The theme will be food security options in Arab countries, based on a comprehensive report on the subject which AFED is preparing in cooperation with a group of experts at leading research and policy centers. Report editors and authors held previous meetings in Kuwait, Beirut, Dubai and Cairo to review report drafts.
AFED Chairman of the Board Dr. Adnan Badran explained after the meeting that AFED Food Security report aims to provide an overview of the state of agricultural resources in Arab countries, and discuss the role of science and technology in enhancing water and food security. It will study the role of livestock in enhancing food security, the impact of climate change on food production, and the implications of food price volatility. Experts from all over the region are preparing case studies on vital issues such as enhancing wheat self-sufficiency, virtual water trade in the GCC countries, UAE food and water strategy, food security options in Saudi Arabia, marginal land productivity in the Badia of Jordan, and Morocco green plan, among many others.
The report is co-edited by Dr. Mahmoud El-Solh, Director General of the International Center for Agricultural Research in Dry Areas (ICARDA) and Dr. Abdulkarim Sadik, Senior Economist at Kuwait Fund, who is an authority in agricultural economics. Report authors include Ayman Abu Hadid, Egyptian Minister of Agriculture, Nadim Khouri, ESCWA Deputy Executive Secretary, Hafez Ghanem, Lead Researcher at Brookings Institute and former FAO Deputy Executive Secretary, Shadi Hamadeh, Chairperson, Department of Animal and Veterinary Sciences, Faculty of Agricultural and Food Sciences at the American University of Beirut.
The conference also includes several renowned speakers, among them, Tariq Al Zadjali, Director General, Arab Organization for Agricultural Development, Razan Al-Mubarak, Secretary General, Environment Agency-Abu Dhabi, Khaled Al-Rwis, King Abdullah Chair on Food Security at King Saud University, Adnan Shihab Eldin, Director General, Kuwait Foundation for the Advancement of Sciences, Rob Bailey, Research Director, Energy, Environment & Resources at Chatham House, Thani Al Zeyoudi, Director of Energy and Climate Change at UAE Ministry of Foreign Affairs, Eckart Woertz, Senior Research Fellow Associate at Barcelona Centre for International Affairs and author of "Oil for Food", Mohammed Badrawi, Head of the National Institute for Agricultural Research in Morocco and Odeh Al Meshan, Director, Badia Program in Jordan.
The report and conference have the support of the Environment Agency-Abu Dhabi who is the Official Partner and Jordanian Petra University as the Organizing Partner. AFED is also collaborating on the production of the report with regional and international research centers and organizations such as the Arab Fund for Economic and Social Development, Islamic Development Bank, International Center for Agricultural Research in the Dry Areas (ICARDA), Kuwait Development Fund, the American University of Beirut and the Arabian Gulf University.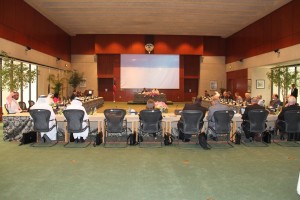 AFED Secretary General Najib Saab explained that "Arab countries have been pursuing a target of higher food self sufficiency rate, but achieving this goal remained beyond reach, as limited land and water resources were not used in efficient manner." Saab also revealed that the report will include the first map of its kind for water resources and agricultural and range lands in Arab countries. (For more information: www.afedonline.org).
For inquiries, please contact:
AFED Secretariat
E-mail: amosharrafieh@afedonline.org
Categories