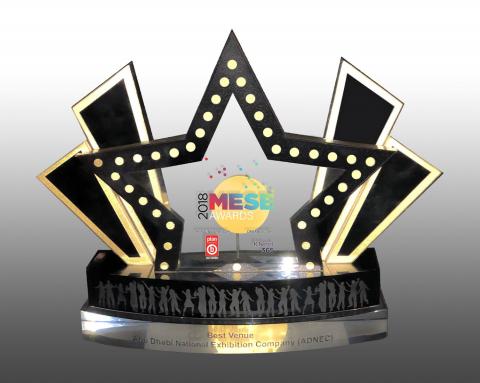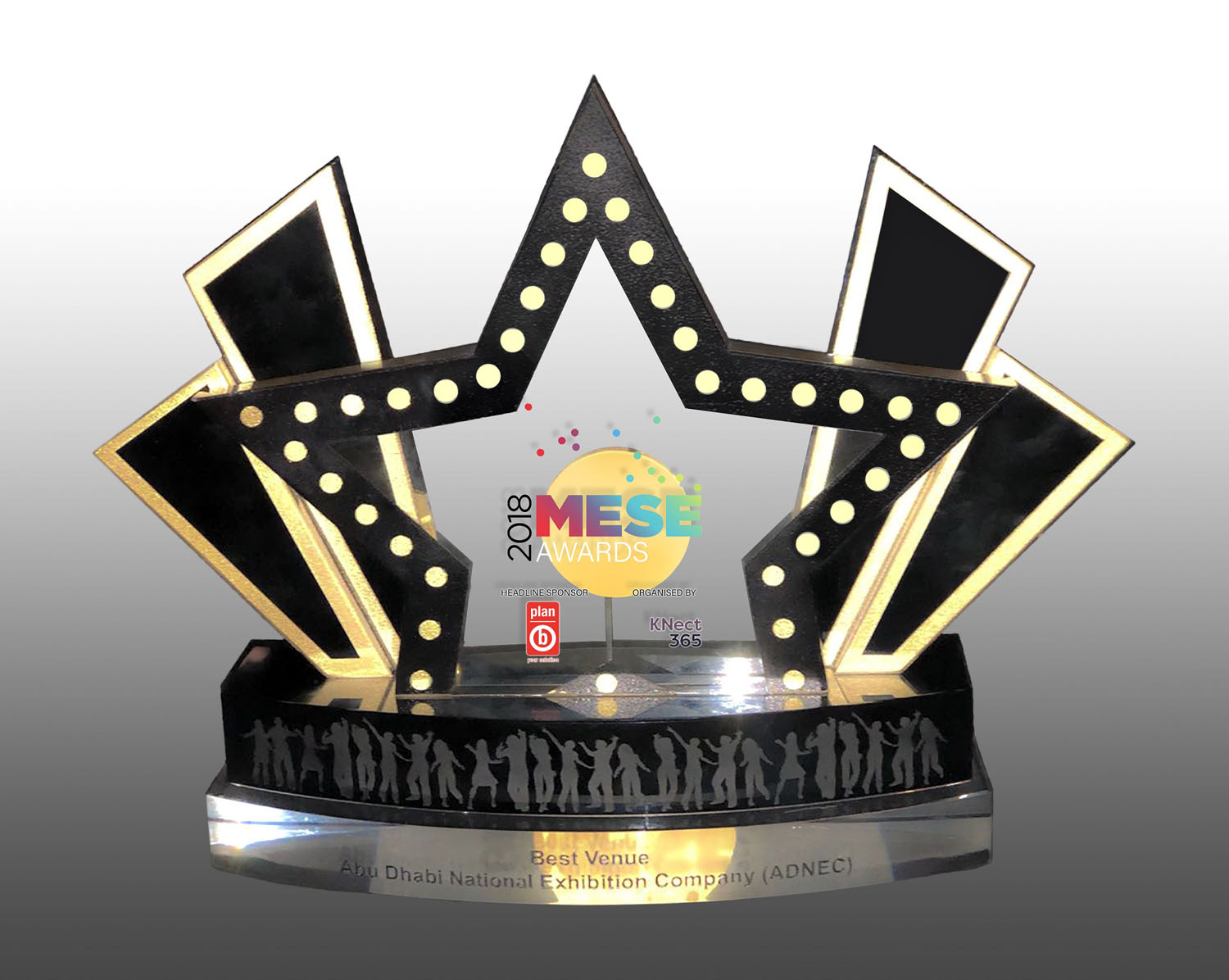 Abu Dhabi National Exhibitions Company (ADNEC) has won the 'Best Venue' award for the Abu Dhabi National Exhibition Centre at the 2018 Middle East Special Events and Exhibitions (MESE) Awards, which was held recently at Madinat Jumeirah Hotel in Dubai. The award was given to exhibition centres which have permanent venue structure dedicated to events, either built for this purpose or facilities located within an existing facility.
The venue is evaluated based on the flexibility to host a wide range of meetings and event functions, and the criteria includes facilities and service information, break-out facilities, meeting and event areas - both indoor and outdoor, audio visual (AV) capabilities, catering and support services, logistical functionality, as well as the quality of the venue itself.
Humaid Matar Al Dhaheri, Group Chief Executive Officer at ADNEC said: "It is an honor to receive this prestigious award and we thank the organizers for recognizing ADNEC's capabilities. This award reflects our ability to host local and international events in line with our strategic plans to boost business tourism in Abu Dhabi by providing event organizers with the ideal facilities and services to efficiently run their shows and enhance customers' experience following international best practices, and thereby ultimately meeting their objectives. The Abu Dhabi National Exhibition Centre, the largest exhibition centre throughout the region, has been awarded due to its ability to host events of all kinds, equipped with state-of-the-art facilities, integrated infrastructure and hospitality services as well as comprising the latest technologies. The Centre has become a preferred venue for meetings, incentives, conferences and exhibitions (MICE) events across the region, and is an integral part of the company offering a high-end portfolio of facilities capable of providing a wide range of services to visitors and exhibitors."
The Middle East Special Events and Exhibitions 2018 Awards included a total of 25 various categories, where the nominees for the 'Best Venue' award listed Abu Dhabi National Exhibition Centre, Du Arena, Dubai Opera, Yas Marina Circuit and The Regal Ballroom at the St Regis Saadiyat Island Resort.
ADNEC's strategies are not only built to develop the infrastructure of its exhibition centre, but also to contribute to the growth of business tourism in Abu Dhabi as part of its strategy to promote the emirate's economic diversification plan. In 2017, ADNEC has contributed to AED 3.89 billion to Abu Dhabi's economy and attracted over 2.082 million visitors, which helped increase hotel occupancy in the emirate to more than 693,000 guest nights and supported the development of local industries, particularly those pertaining to knowledge and trade.
Half the world's population lives within a five-hour flight time to and from Abu Dhabi. There are three world-class airports: The Dubai International Airport, The Maktoum International Airport and the Abu Dhabi International Airport, with over 186 different airlines flying to as many as 330 different destinations, within easy distance to the exhibition centre.
Founded in 2005, ADNEC is a multi-award-winning venue offering 133,000 sqm of flexible event space to organizers of exhibitions, conferences and live events. Abu Dhabi National Exhibitions Company is made up of Abu Dhabi National Exhibition Centre, Al Ain Convention Centre, ExCeL London, Aloft London ExCeL Capital Centre, Capital Gate, Hyatt Capital Gate Abu Dhabi, and Aloft Abu Dhabi.
Categories