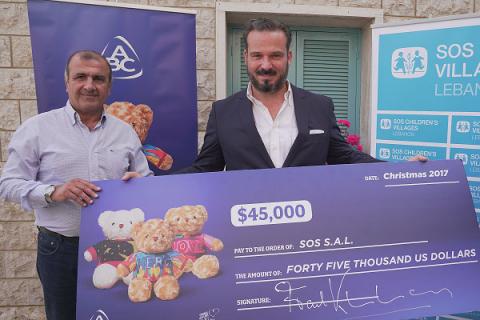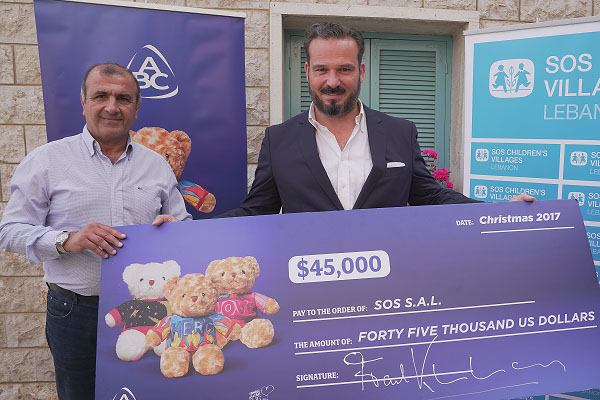 During a special ceremony organized at SOS Children's Villages in Bhersaf, ABC, the leading retailer in Lebanon, announced today the results of its 2017 Small Bear Big Heart Christmas initiative raising 45,000 $ Funds to support children, young people and families at SOS Children's Villages Lebanon. The announcement was attended by ABC Management and SOS Children's Villages officials as well as media representatives.
The Small Bear Big Heart signature Christmas initiative launched by ABC in 2010 is part of ABC's Corporate Social Responsibility program. The purpose of this heartfelt initiative is selling small teddy bears to support a big cause by lending a helping hand each year to a different NGO. During the past 8 years SBBH initiatives raised donations to support Lebanese Autism Society (2010), Dar el Amal (2011), Save the Children (2012), Brave Heart (2013), Teach a Child (2014), Ruwwad El Tanmia (2015), Himaya (2016) and SOS Children's Villages Lebanon in 2017. Customized teddy bears designed by Lebanese designer Hussein Bazaza were sold during Christmas 2017 in all ABC flagships to raise funds for the campaign by spreading the season's magical spirit.
"This special yearly initiative aims at spreading joy and hope in the hearts of Lebanese children. By selling small teddy bears in ABC malls and Department stores we choose every year to join hands with an NGO like SOS and serve a big cause", said Mr. Frank-Matthias Kuntermann, CEO of ABC Group. "We would like to thank our partners and customers for supporting ABC's Small Bear Big Heart initiative for the past 8 years. Gestures from the heart always go a long way", he added.
ABC's successful Corporate Social Responsibility program is perfectly aligned with its mission and purpose. Mission of ABC:  Being a great social hub, offering the best brand mix and outstanding customer experience, makes ABC Lebanon's favorite brand. Purpose of ABC: Make Lebanon a better place. In fact, through its CSR program ABC reinforces its commitment to making a genuine difference and achieving a positive change by adding significant social value to the Lebanese community. Through its different comprehensive programs, such as waste management, SBBH program, raising awareness on breast cancer, and many other initiatives, it has succeeded in becoming a role model in driving positive change and inspiring others to do the same.
Categories