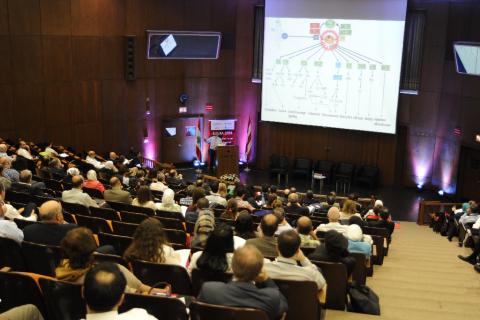 Tuesday May 13, 2014 -Beirut, Lebanon – The 47th Middle East Medical Assembly (MEMA), held on April 24th – 26th at the American University of Beirut's (AUB) Issam Fares Lecture Hall, came this year with a new direction and more specialized with updates in medicine, focused on Hematological Malignancies.
The inauguration was held in the presence of Mrs. Lama Salam, wife of Prime Minister Taman Salam, former ministers, members of the AUB Board of Trustees, AUB President Peter Dorman, AUB Provost Ahmad Dallal, Vice President of Medical Affairs and Raja N. Khuri Dean of the Faculty of Medicine at AUB Mohamed H. Sayegh, and members of the AUB community.
Dr. Ali Taher, professor of medicine, Hematology & Oncology at American University of Beirut Medical Center, and Chairperson MEMA 2014 and 2015, opened the assembly. In his welcoming note Dr. Taher stressed on the foundation of which MEMA was founded, "inspired by the soul core values and the glorious achievements of AUB, MEMA has been answering its noble calling driven by a deep belief in social justice and health as a right. Medical knowledge should be shared and communicated, and quality care should be provided to all."
"AUB and AUBMC have taught us that medicine is science and patients are at the core of the practice." added Dr. Taher. "We learned that pathology in medicine is committed to serve patients, which is the main goal of any research conducted. Since ancient times, alleviating pain has been the main driver for evolving medicine and finding cures. This still holds true to date but with more sophisticated tools. Today and in order to explain a mechanism of a specific disease, we study cells in depth, genetics, receptors and mutations."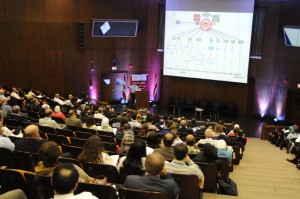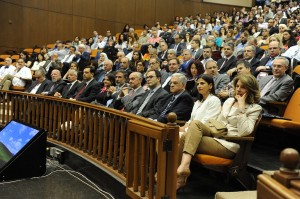 World experts, prestigious institutions, more than 1039 national, regional, and international participants came together to share expertise placing MEMA on the map of global reputable scientific events.  MEMA this year comes in collaboration with MD Anderson Cancer Center and in partnership with King Hussein Cancer Center.
Following Dr. Taher, VP/Dean Mohamed H. Sayegh welcomed the attendees and spoke of MEMA's pioneering role and long-standing tradition of providing excellence in medical education with topics that are reflective of the changing needs of health care in our region. Sayegh added, "We have slightly altered this year's format, focusing on a more specialized MEMA dedicated to updates in hematologic malignancies." Dr. Sayegh announced MEMA's 2015 topic, which will come at a large scale dedicated to Oncology, more details will be shared in the future.
"MEMA's role is not limited to advancing medical education through its numerous educational workshops and sessions. The MEMA gala dinner held each year uses its proceeds to support scholarships for medical students at AUB in need of financial support. Over the past years, since instating our AUBMC 2020 Vision MEMA has supported medical and nursing students in need with scholarships. This is a testament to our commitment to not only spread medical education but to ensure that the future leaders of healthcare have a chance to attain their dream and pursue a career in medicine, dedicated to care for the people of Lebanon and the region." added Dr. Sayegh.
The uniqueness of this year's MEMA went beyond specialization to hosting Rita Ragavlas, a cancer survivor diagnosed in 2006 with Hodgkin's disease, nodular sclerosis type, stage IV B, speaking on behalf of cancer patients about her personal experience with cancer, the journey in its lowest lows and her most inspiring highs, the support, treatment and cure. Her words, which touched everyone present at Issam Fares Lecture Hall, held insights of the importance of a unified medical family working hand in hand for the advancement of treatment, research, the availability of the right medication, equipment, and expertise to treat all kind of cancer, the need of governmental support to give treatment equality to all, of patient care, support groups, as well as the importance of treating the cancer patient or any patient as a human.
"Cancer is hard, chemo is painful but I decided to stay focused on how precious life is, each day was a gift and I was a warrior," with these words Rita concluded her speech.
Following the speeches, MEMA exhibition was inaugurated and a rich program spread over two days was lined up featuring state of the art educational sessions focused on hematological malignancies, nursing and clinical research workshops, general practitioners and family medicine session, symposia and special memorial lectures.
The importance and interest in MEMA went beyond the event and its attendees, several media platforms covered it with an approach to share and show the added value such events would bring to the Lebanese medical scene and to the benefit of the patients. 
For more information please visit our website www.aubmc.org or contact:
The AUBMC Office of Communications at 0096 1 350000 ext. 4732
Rana Alley, Director of Strategic Planning and Communications 00961 1 350000 ext. 4722
Email: praubmc@aub.edu.lb
Note to Editors
About American University of Beirut Medical Center
Since 1902, the American University of Beirut Medical Center has been the most trusted and respected healthcare provider in Lebanon and the region, handling more than 300,000 patient visits annually.  AUB is building on its strong foundations in medical education and health care through the AUBMC 2020 Vision. In addition to improving facilities and capacity, the AUBMC 2020 Vision will establish centers of excellence that will provide new medical options for the treatment of illnesses endemic in the Arab world, and it will expand access to the quality of care that families in Lebanon have depended on for generations.
Launched in 2010, the AUBMC 2020 Vision is an ambitious and comprehensive initiative that affirms AUBMC's position as the leading medical center and healthcare institution in the region. The AUBMC 2020 Vision is transforming medical education, research and practice, and most importantly, medical care in the region, bringing them to new levels of excellence.  It consists of major new medical (clinical and academic) facilities, the establishment of clinical and research centers of excellence, investment in state-of-the-art equipment, recruitment of talented physicians and nurses, and regional and international partnerships.  Read more at www.aubmc.org/2020
Categories