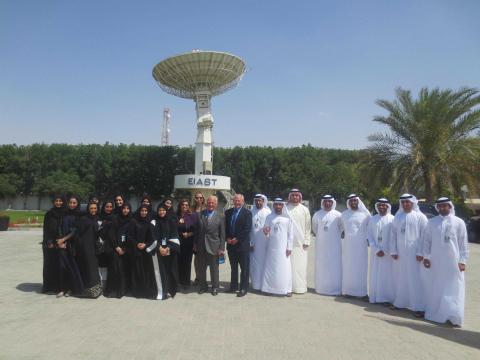 Buzz Aldrin looks into EIAST's achievements in consolidating UAE's leadership in global space sector
UAE, April 9, 2014 - Buzz Aldrin, the scientist who was the second person to walk on the moon, has made a historic visit to the headquarters of EIAST. He visited the ground station of DubaiSat-1 and DubaiSat-2 satellites, which provide high-quality satellite images for environmental projects, urban planning, infrastructure and scientific research in the UAE. Aldrin and his accompanying delegation were welcomed by a number of senior executives in EIAST, who gave a detailed explanation of the UAE's research initiatives and space projects, primarily KhalifaSat project, the country's  first fully Emirati-built satellite.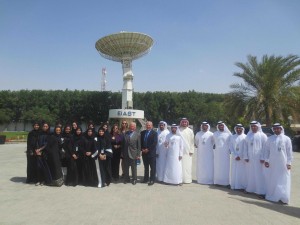 During his visit, Aldrin looked into EIAST's achievements in consolidating the culture of scientific research and technological innovation as well as in providing the necessary infrastructure to position the UAE as a leading hub for manufacturing satellites. He also praised the efforts undertaken by EIAST to employ space technology in advancing social and economic development. Aldrin and the delegation were also briefed on EIAST's strategy aimed at the optimal investment in the local human resources that are able to lead the drive in developing and manufacturing advanced satellites and live up to the global competition.
H.E. Yousuf Al Shaibani, Director General, EIAST, has expressed his pleasure to welcome one of the most prominent space figures in the world. He emphasized that the visit gains strategic importance, as it reflects the growing international interest in EIAST as an incubator for scientific creativity and a promising hub for the space industry. "The visit of the second astronaut to walk on moon prompts us to continue with our hard work to realize our ambitious vision centered on achieving a comprehensive scientific renaissance under the supervision of local talents. This will enable us to enhance the competitiveness of the UAE and bring it at par with the ranks of the most prominent international centers in the field of space industry and scientific and technological research aligned with the vision of H.H. Sheikh Mohammed bin Rashid Al Maktoum, UAE Vice President and Prime Minister and Ruler of Dubai," concluded Al Shaibani.
EIAST was established by the Dubai Government in 2006 with the goal to promote a culture of advanced scientific research and technology innovation in Dubai and the UAE, and to enhance UAE nationals' capacity in technological innovation and attaining leading scientific levels. It is mainly involved in outer space research and development; manufacture of satellites and development of systems; space imaging; and ground station services and support to other satellites.
For more information about EIAST, please visit www.eiast.ae
For latest news and developments on Khalifa Sat, please follow us on
Instagram: @KhalifaSat_Project
Facebook: Emirates Institution for Advanced Science and Technology (EIAST)
Twitter: @EIAST
YouTube: Emirates Institution for Advanced Science and Technology (EIAST)
Categories