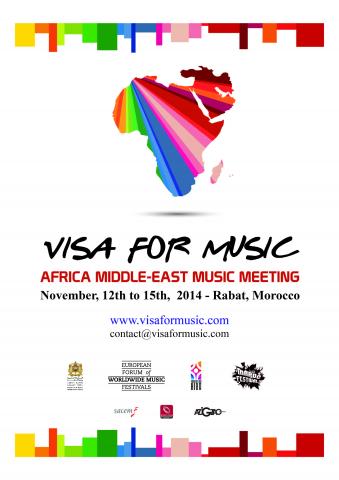 Rabat – Morocco
An unprecedented event in Morocco and in the continent that you should
not miss...
As the first professional music meeting gathering Africa and the Middle East, Visa For Music establishes itself as the unique international marketplace for World and New Music of these regions, and as the interprofessional platform for the music industry in Morocco and countries of the South.
The main mission of Visa For Music is to promote the constitution of a music marketplace in Africa and Middle East. Today, this market is insufficient whereas the local musical creation is extremely rich and diverse. Thus, Visa For Music has the ambition of creating a platform for greater visibility as well as an environment favoring creativity and professionalization in the cultural sector.
If there is one country in Africa which can claim the right to organize this event, then it is Morocco. In recent years the country has experienced an important growth in the development of  its cultural and musical landscape. Its great music festivals, whose reputations are spreading worldwide, are just one obvious proof of it, in addition to the important number of festivals dedicated to heritage and contemporary creation organized throughout Morocco.
Visa For Music: the program
Visa For Music will gather professionals of the music industry: artists, professional   organizations,   and   groups,   independent   and   major   labels,   cultural institutions and foundations, media and distributors, managers, agents… etc.
The meeting will be punctuated by many activities, such as the showcases whose goal is to put the spotlight on major talents from Africa and the Middle-­‐East. In order to do so, 24 artists / bands will be selected and will have the opportunity to perform in front of professionals and a prestigious jury.
A tribute will also be given to some of the figures that have left a mark on the recent music history in Morocco, on the African continent and in the Middle East.
A series of others activities will animate this meeting in order to make it an event full of interactivity and exchange: conferences and documentary films projection, professional trainings, speed-­meeting, networking, professional sittings…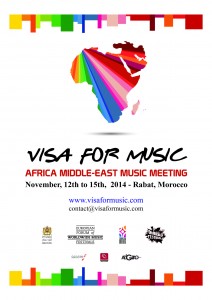 On the fringe of Visa For Music 2014, the 4th edition of the International Conference on Creative Economy in Africa, an annual meeting organized by ARTerial Network, will be held from 13 to 15 November,. This event will gather almost 300 participants from the cultural and artistic sector of the whole continent and beyond in order to tackle current fundamental issues and to formulate development and durability strategies for a dynamic African creative sector.
Visa For Musicis organized:
•     In collaboration with:
o     The Ministry of Culture of the Kingdom of Morocco
•     With the support of:
o    The European Forum of Worldwide Music Festivals (EFWMF)
o    The Foundation HIBA
o    Maroc Festivals
Others institutional partners have expressed their interest to support this event.
More information on :
www.visaformusic.com www.facebook.com/visaformusic
@visaformusic
Contact :
Brahim El Mazned contact@visaformusic.com
Categories