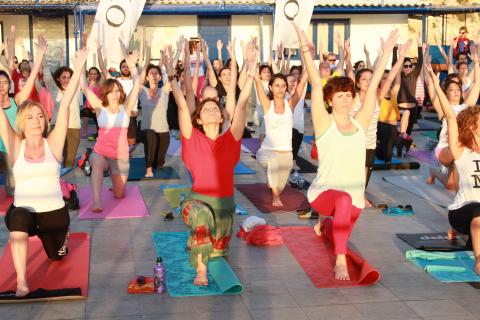 Beirut, May 2014: For the second consecutive year, the Brave Heart Fund hosted the largest Yoga event in Lebanon at the Sporting Beach Club in Manara. 100 hearts came together on May 1, 2014 for one cause and one mission "no child should die of heart disease because of lack of funds"
The event included a two hour yoga class led by Yoga instructor Danielle Abisaab in a breathtaking setting with sunset colors reflected on the sea.
Maya Fawaz, a representative from the Brave Heart Fund commented "It is a great honor to witness the success of this event and to see most supporters from across Lebanon who have come together for this worthy cause. This is one of the initiatives of the Brave Heart Fund that is dear to my heart: fighting against congenital heart disease while staying fit and healthy."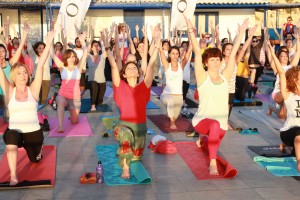 Further commenting on the occasion, Danielle Abisaab: stated: "We may have been led to believe that our individual actions don't matter much to the whole, much less to another or even to ourselves. Children need the fruits of our collective efforts and intentions to heal their hearts and make them whole again. Fact is, each one of us can make a huge difference sometimes by simply showing up. Moving, breathing and cracking our heart open to the sky, alongside likeminded people concerned with one same cause and guided by compassionate concern for the happiness of others is the ultimate expression of our humaneness and love for another. Brave hearts have the power to help heal a child. Be one now."
The event was held in partnership with Oysho, A New Earth, QI Juices, Rim, Ixsir, Globe Med Lebanon and Presella.com
The Brave Heart Fund is a charitable, fundraising initiative established in November 2003 at the Children's Heart Center at the American University of Beirut Medical Center (AUBMC). Over the past few years, the fund has grown to an extent that it covers a surgical or non-surgical procedure for CHD almost every day of the week, thus saving over 2200 lives in just 10 years.
Categories